Description
Introducing the newest workout and healthy eating guide from Tone-and-Tighten.com!
Our all-new…
TOTAL BODY TRANSFORMATION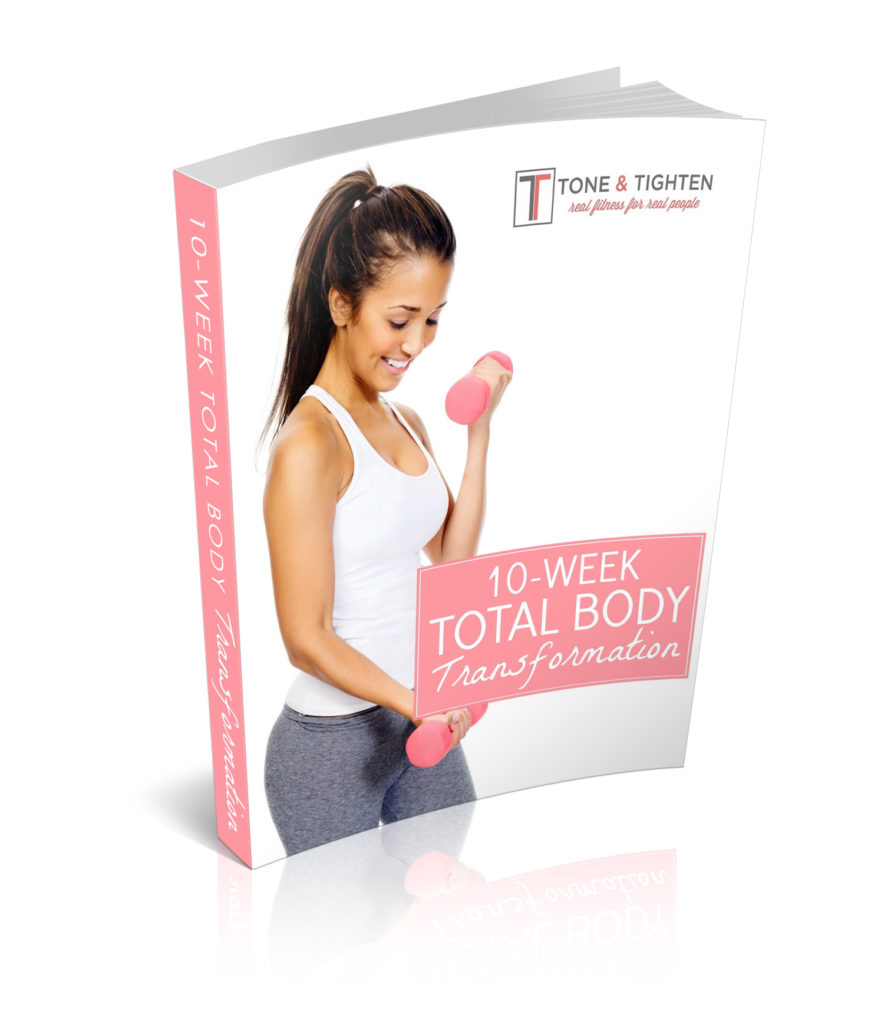 Combining the best of healthy eating guidelines and awesome at-home workouts to MAXIMIZE your results!
Most diet and exercise plans fail because they require a completely radical change. Most of us end up hating the time we're "dieting" and "can't wait until it's done". The reason why most of these efforts fail is because it's not SUSTAINABLE and there's no real long-term change. This plan is different.
With the "Total Body Transformation" I will coach you through making small, healthy, and consistent choices in your eating and exercising that collectively add up to some pretty amazing results!
In fact, this guide is the backbone for a lot of the recommendations I make with private clients as well as groups I work with. We run these groups for 8 weeks; average weight loss is usually right around 8-10 lbs! It's astounding what you can do simply by following the guidelines set forth in this ebook!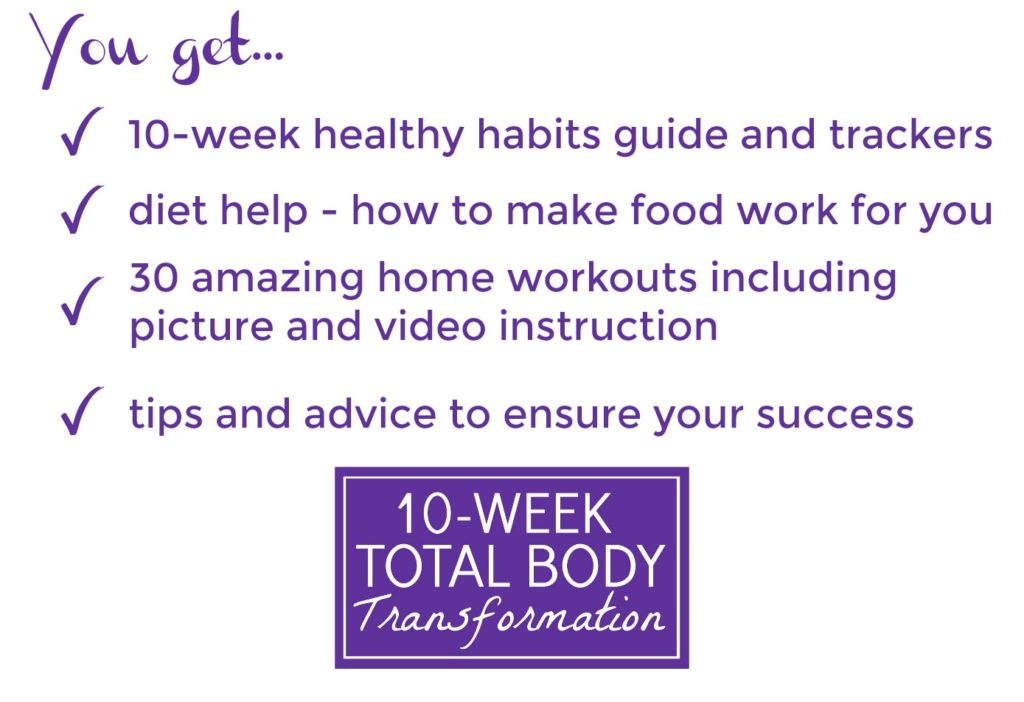 Included in this plan are 10 weeks of "Healthy Habits Trackers". You earn points for performing or avoiding certain healthy or unhealthy behaviors. Here's an example…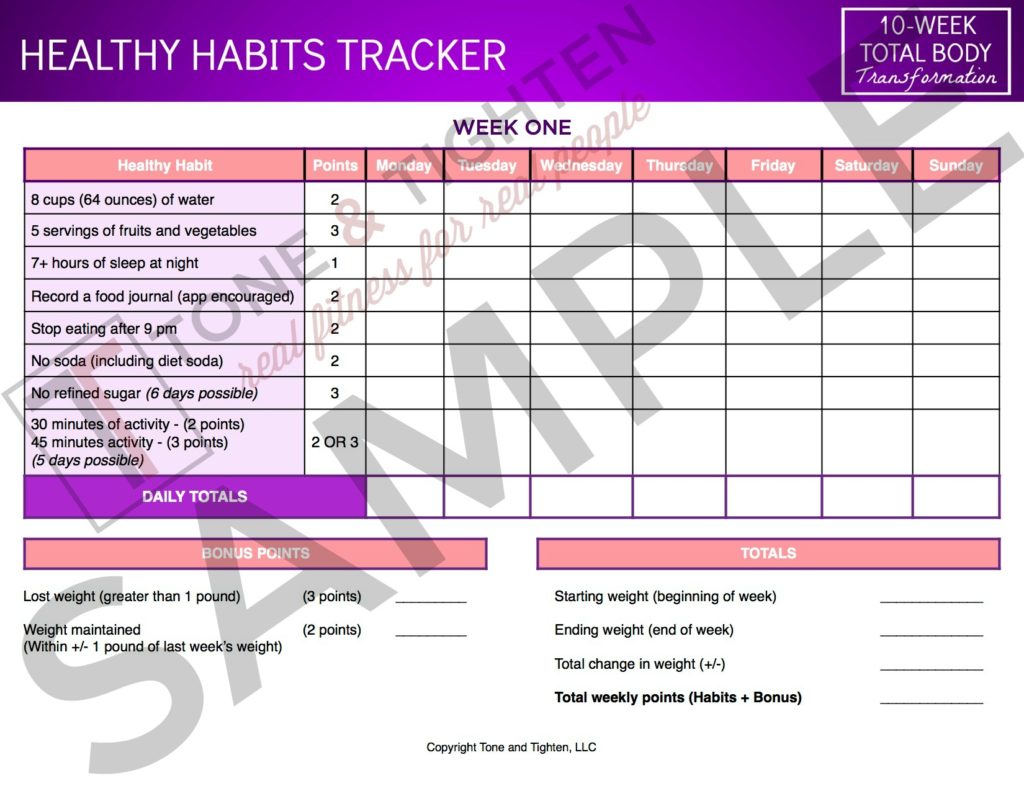 This is a solid, concrete way for you to see exactly where you might be lacking on your journey. Perhaps you do great at working out, but have a major sweet tooth. Maybe you've got your diet under control, but are eating the wrong types of foods. Modifying these behaviors and tracking them over the next 10 weeks will help bring to your awareness in what areas you're succeeding.
Of course, all of these habits are explained in much more detail including why it's beneficial for you to be performing or avoiding these activities.

You also get an amazing 10-week workout guide to help you on your journey!
30 great workouts you can do at home; each one takes less than 30 minutes with minimal equipment recovered (at most you'll need a pair of dumbbells)
You'll receive detailed pictures and written instruction about every exercise you'll perform as well as VIDEO INSTRUCTION for every single workout! Make sure you're doing everything correctly to maximize gains while minimizing injury!
Here's a preview of just one of the 30 workouts you'll receive with the Total Body Transformation…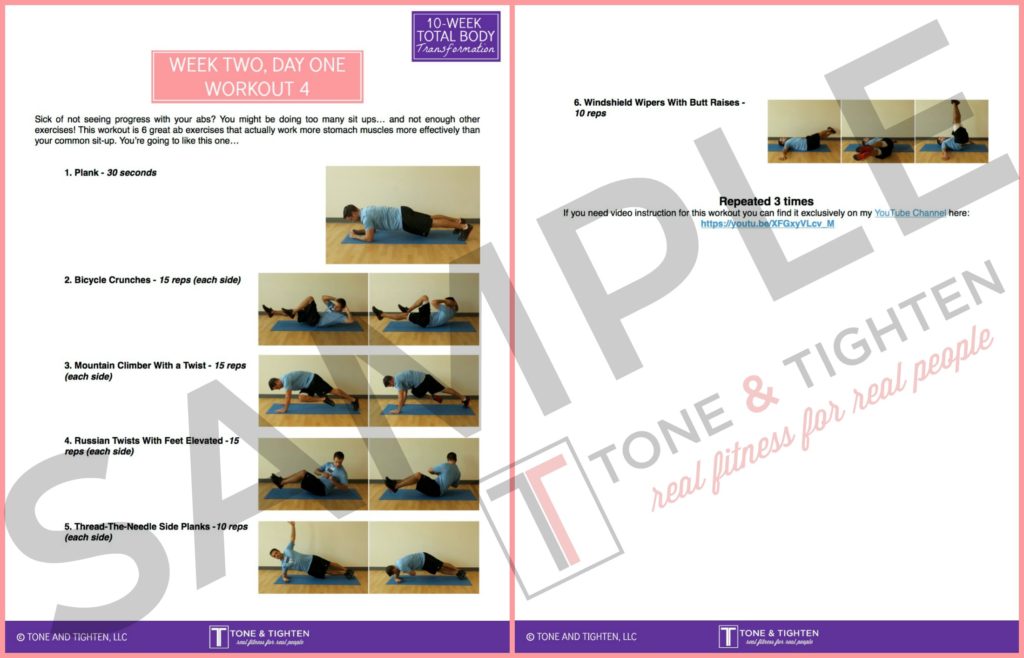 Most 10-week workout plans sell for around $90 – $110 and rarely include any type of diet/eating advice. In order to make this guide more accessible to you, we are listing it for the super low price of…
$59.99
Think about it – that's only $6 a week!
Whether your goal is to lose that stubborn baby weight, fit back into those skinny jeans, or even just feel stronger and healthier – this is the plan that will get you there.
Stop making excuses and start seeing results. This is the plan you've been searching for, and I promise your results will speak for themselves.
If you have any questions or comments about this or any of the workout plans you can find on Tone-and-Tighten.com please feel free to ask! Leave me a comment below or email me at
Jared{at}ToneAndTightenFitness{dot}com
Make it happen,
Jared